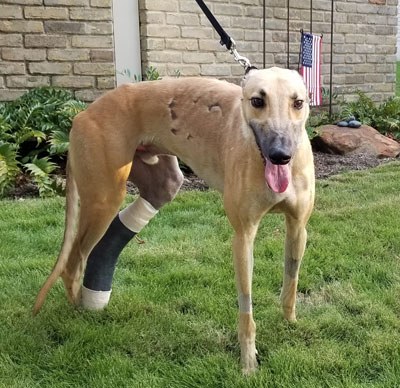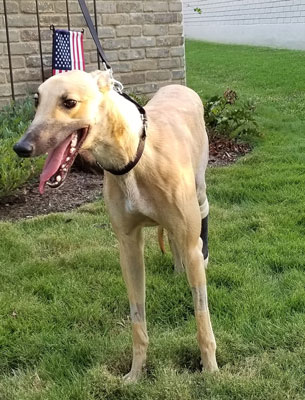 Yosemite Sam, aka FF Yosemite Sam, is a 1 year old red male born on August 1, 2019. His sire is Dodgem By Design and his dam is Hels Mercury. Yosemite Sam came to GALT with his sister, Marigold. Unfortunately Yosemite had suffered a broken left rear leg, which was discovered when he was moved from one farm to another. Surgery with Dr. Bob Radasch was performed on August 12, and an external fixator was placed on his leg. It will be another six weeks until he will be evaluated. His foster home is keeping him very quiet during this time, with daily cleaning of his fixator. Yosemite is cat tolerant.
Watch more of Yosemite Sam
The special medical treatment cost needed by Yosemite Same is why the The Dr. E. Kelly Nitsche Veterinary Care Fund was established. If you would like to help with Yosemite Sam's care, please take a moment to make a donation to the fund. You WILL and CAN make a difference in Yosemite Sam's life and the lives of other greyhounds in need of special medical care. Your help and support will make a difference - one greyhound at a time.
Through the GreytStore

DONATE

Through PayPal

By Check

Greyhound Adoption League of Texas
3400 Carlisle St, #310
Dallas, TX 75204

Please note The Dr. E. Kelly Nitsche Veterinary Care Fund/Yosemetie Sam on your check.