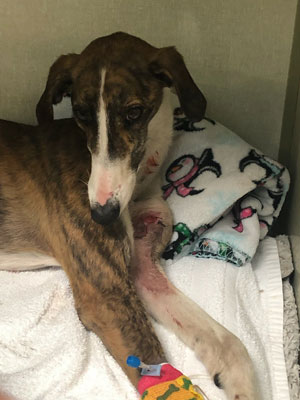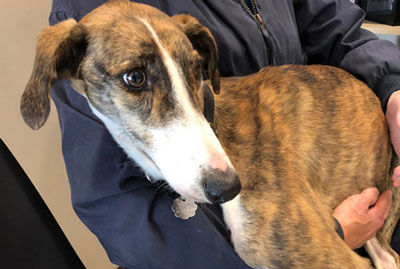 Penny, is an approximately one year old female brindle and white greyhound/saluki mix. She was found by Samantha, her guardian angel, hunkered down on her patio chair on a very cold November night in the Mansfield area. Samantha immediately took her inside and warmed her up; and also discovering she had been shot in her left front leg, as well as she could not walk well with her right rear leg. Samantha called GALT from an emergency clinic in the Mansfield area to see if we could help Penny (named after Samantha's dear aunt). After taking care of all the EC bills, Samantha met Andy and Barb Berner to surrender Penny to GALT. Upon further examination at VCA PPAH, it was determined that there were numerous 22 caliber bullets found in Penny's left shoulder and leg. After consultation with DVSC, it was decided this leg should be amputated. Penny also suffered from an injury to her left rear leg that will require a FHO, which will be performed by DVSC at least 6-8 weeks after the amputation. What a trooper this girl is.............and loves just being alive!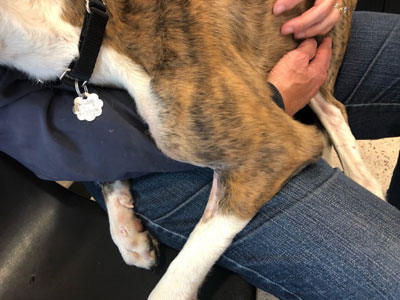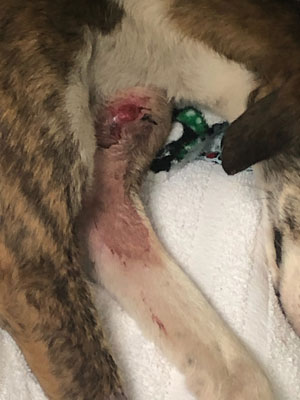 The special medical treatment cost needed by Penny is why the Miss Mesa Fund was established. If you would like to help with Penny's care, please take a moment to make a donation to the fund. You WILL and CAN make a difference in Penny's life and the lives of other greyhounds in need of special medical care. Your help and support will make a difference - one greyhound at a time.
Through the GreytStore

DONATE

Through PayPal

By Check

Greyhound Adoption League of Texas
3400 Carlisle St, #310
Dallas, TX 75204

Please note Miss Mesa Fund/Penny on your check.