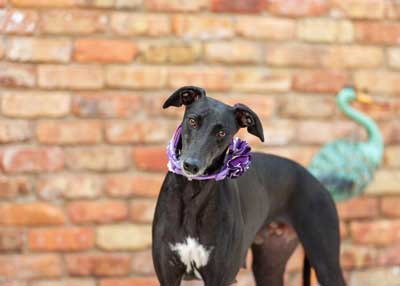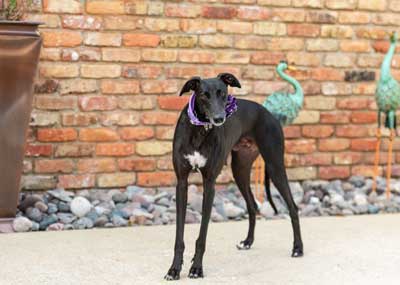 Peggy is a beautiful petite black 1 1/2 year old female born June 17, 2019. Her sire is XKT Dave Turin and her dam is Desert Eagle. Peggy came to GALT a day ahead of the rest of her litter - Amanda, Neo, Lydia, Aaron, Clifford and Emmitt. However, Peggy, unlike 4 in her litter, Neo, Lydia, Emmitt and Aaron, was not heartworm positive, but PREGNANT! Within 10 days of her arrival, Peggy gave birth to 7 beautiful puppies! Peggy and the rest of her siblings were part of a farm closing where she was involved in an "oops" breeding.
Peggy, thanks to her wonderful foster family, is an absolutely well grounded girl who will make a wonderful addition to any family. She is cat tolerant. Peggy, like many in her litter, has tested positive to heartworm and has begun her treatment.
After birthing puppies, this beautiful puppy mamma is looking for a forever home where she will be the center of most family activities. She is slightly more energetic than your typical greyhound and will beg you for attention and play time.

Peggy loves to explore and play with ALL the toys in her toy box; from squeaky toys, bones, and crinkly toys, to stuffies and anything else she can get a hold of that seems entertaining. Peggy has started to get the hang of ringing the bell at the backdoor to say she needs to go out and is fearless about using the doggie door.

This little lady is food motivated and can be used as a positive reward tool to continue her training in her transition to her forever home. Peggy is also very interested in people food too, so always keep one eye on your plate!

She is THE best and easiest dog to walk on a leash.... until she sees a bunny. If Peggy were to be in a home with cats, the cat would have to be tolerant of her puppy ways and attempts to play. Her foster kitty is comfortable being on the floor with her, and will sort of play, but when he's done with her, he needs a place to go where she cannot; under the bed, or the back of the sofa.

Peggy is a lovely young girl and does well with other dogs.

Peggy's Foster Parents
Watch more of Peggy
The special medical treatment cost needed by Peggy is why the The Dr. E. Kelly Nitsche Veterinary Care Fund was established. If you would like to help with Peggy's care, please take a moment to make a donation to the fund. You WILL and CAN make a difference in Peggy's life and the lives of other greyhounds in need of special medical care. Your help and support will make a difference - one greyhound at a time.
Through the GreytStore

DONATE

Through PayPal

By Check

Greyhound Adoption League of Texas
3400 Carlisle St, #310
Dallas, TX 75204

Please note The Dr. E. Kelly Nitsche Veterinary Care Fund/Peggy on your check.